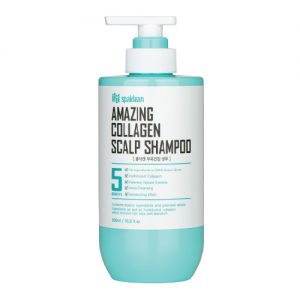 AMAZING COLLAGEN SCALP SHAMPOO
DESCRIPTION
Amazing Collagen Scalp Shampoo is a hypoallergenic deep cleansing shampoo. It contains organic ingredients and patented natural ingredients as well as hydrolyzed collagen which improve hair loss and dandruff.
Amazing Collagen Scalp Shampoo is your daily head spa care that blows away the stress of today with natural lemongrass aromatherapy. Lemongrass has excellent antibacterial, soothing and  anti-aging properties, which helps with blood circulation to the scalp.
RECOMMENDATION
Recommended for those who
 worry about hair loss
 care for cleaning scalp
 have thinner hair
 have dandruff
 look for a shampoo for family
 have oily scalp
 dye or perm hair
 look for a mild and good shampoo
BENEFITS
BENEFIT   Promotion of healthier & fuller hair,  Anti-aging on scalp, Reduction of hair falling, Improvement of overall appearance of hair.
All ingredients in EWG Green Score
Hydrolyzed Collagen
Patented Natural Extracts
Deep Cleansing
Moisturizing Effect
Amazing Collagen Scalp Shampoo is made with the key ingredients good for the scalp.
 Hydrolyzed Collagen and 22 Amino Acid Complexes : Absorb quickly and provide with nourishment and hydration to the scalp and hair, as well as soothe the scalp due to external irritation.
 Mushroom Mycelia Fermented Bird's Nest Extract : Effective ingredients to improve skin wrinkles, moisture skin, alleviate inflamation, proliferate skin cells and alleviate skin irritation.
 Pure Medi : Promote collagen production and is excellent for anti-aging effect.
 10 Black Food Complexes : Improve blood circulation in the scalp to help nourish the hair roots and reduce hair loss.
Amazing Collagen Scalp Shampoo helps soothe the symptoms of scalp problems that can cause hair loss such as  inflammation, dandruff and seborrheic dermatitis.
 Cypress Water and Oil : Cypress water and oil are full of phytoncide of cypress tree which are effective for anti-bacteria and deodorization.
 Dexpanthenol : Dexpanthenol is quickly absorbed into the scalp, promotes the regeneration of damaged skin tissue, relieves dermatitis symptoms and retains moisture.
The waste and residue can easily clog pores that can cause dandruff and dermatitis, which can result in hair loss. All shampoos will cleanse hair of the usual oil and residue, but shampoo with deep cleansing formula will cut through more stubborn impurities and residues. The abundant, creamy bubble from Amazing Collagen Scalp Shampoo's creamy foams dissolve the dirt on hair and scalp, reduce irritation and cleanse deeply and help to prevent hair loss.
INGREDIENTS
Amazing Collagen Scalp Shampoo eliminates harmful ingredients and uses key ingredients that are good for the scalp, adding complementary ingredients to match the EWG green score.
EWG Green Ingredients
The most of ingredients of Amazing Collagen Scalp Shampoo score EWG Green by removing harmful ingredients and adding good core ingredients and complementary substances for the scalp.
The Environmental Working Group (EWG) is an American activist group that specializes in research and advocacy in the areas of agricultural subsidies, toxic chemicals, drinking water pollutants, and corporate accountability. EWG green score signifies that products are free from concern chemicals and meet EWG's strictest standard for health.
Made with 14 natural ingredients for scalp and hair.
 Aloe Barbadensis Leaf Extract
 Opuntia Coccinellifera Fruit Extract
 Thymus Vulgaris (Thyme) Extract
 Chamomilla Recutita (Matricaria) Flower Extract)
 Camellia Sinensis Leaf Extract
 Portulaca Oleracea Extract
 Morus Alba Bark Extract
 Salvia Officinalis (Sage) Leaf Extract
 Sophora Flavescens Root Extract
 Pinus Palustris Leaf Extract
 Argania Spinosa Kernel Extract
 Artemisia Vulgaris Extract
 Glycyrrhiza Glabra (Licorice) Root Extract
Natural Fragrance
Enjoy the natural fragrance of the lemon grass and relax as if you are in a spa! Lemongrass has excellent antibacterial, soothing and anti-aging properties, which helps with blood circulation to the scalp.
Free from 20 harmful ingredients:
 Butyl Methoxydibenzoylmethane: Avobenzone: Parsol1789
 Isopropyl Alcohol
 Methylparaben: Methyl Parahydroxybenzoate, Ethylparaben: Ethyl Paradroxybenzoate
 Sodium Lauryl Sulfate, Sodium Laureth Sulfate
 Polyethylene Glycol
 Triethanolamine
 Isopropyl Methylphenol; Isopropyl Cresols; Isopropyl Crezol; o-Cymen-5-ol
 Sorbic Acid
 Triclosan
 BHT : Dibutyl Hydroxy Toluene, Butylated Hydroxytoluene
 BHA
 Oxybenzone: Benzophenone-3
 Imidazolidinyl Urea
 Thymol
 Triisopropanolamine
 Mineral Oil: Paraffinum Liquidum
 Phenoxyethanol
 MIT:Methyisothiazolinone
 Colorant
 Artificial Fragrance: Parfum
HOW TO USE
Take a moderate amount and apply to wet hair. Gently massage hair and scalp, make bubbles. Rinse thoroughly with clean water.
Why scalp care is important?
We do skincare every day, but how about scalp care? The scalp is also skin. The skin renews itself every 28 days by shedding dead skins cells and replacing them with new ones.
Internal and external factors such as impure scalp, unbalance of oil & water, scalp damage and aging can affect hair growth and cause hair loss.
Therefore, proper scalp care is very important to maintain healthy scalp and hair as skin care.
5 Basic Principles of Scalp Care:
1. Clean Scalp
2. Oil and Water Balance
3. Nutrition Supply
4. Soothing Effect
5. Safe ingredients
Amazing Collagen Scalp Shampoo is faithful to these basics of scalp care.